Join Us at Vitafoods Asia 2023 in Bangkok – from 20th to 22nd of September 2023!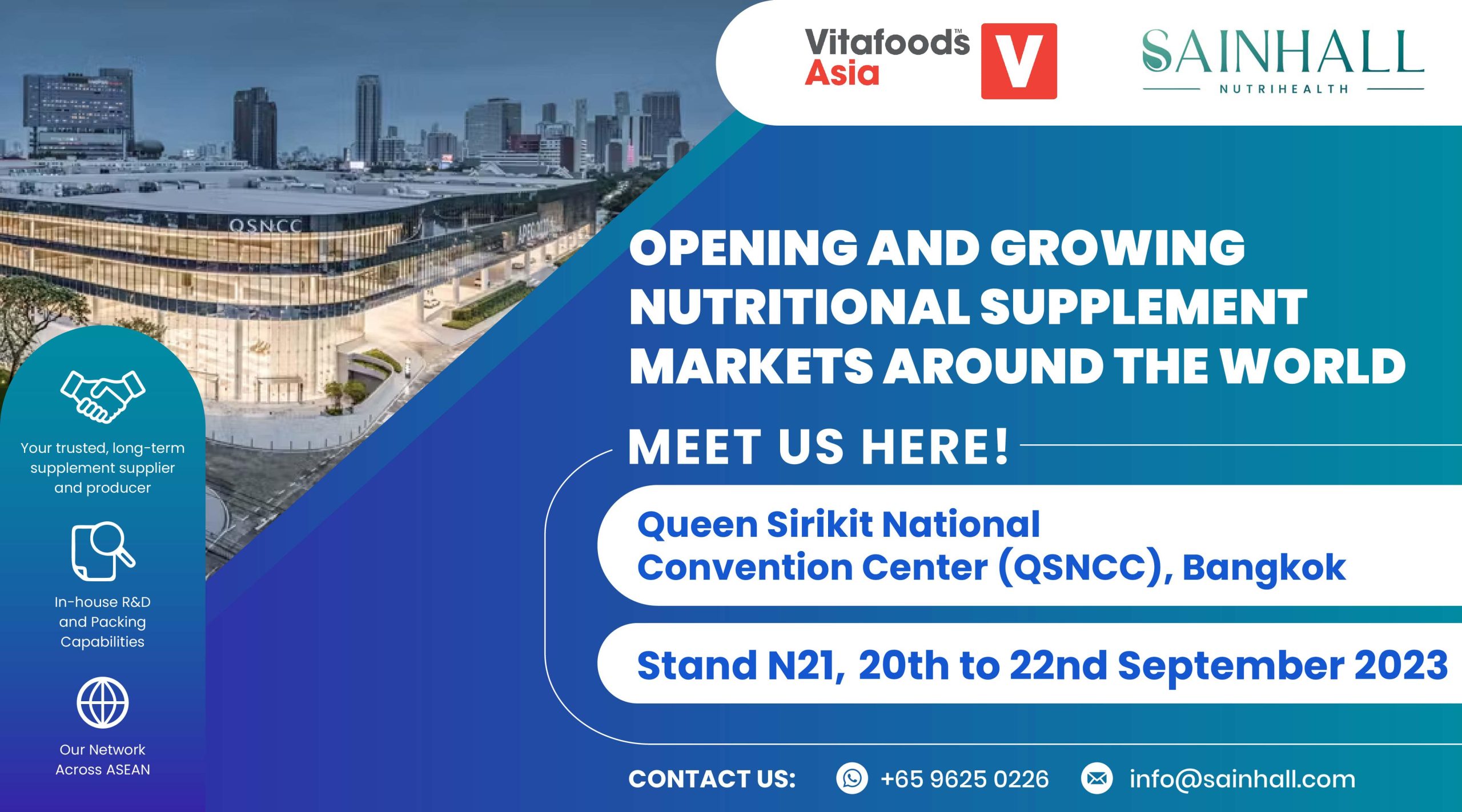 We are excited to announce that Sainhall Nutrihealth Pte Ltd will be showcasing at Vitafoods Asia 2023. We would like to invite you all to visit our booth at this event, held in the vibrant city of Bangkok, Thailand.
Discover the Future of Health and Wellness
At Sainhall Nutrihealth, we are dedicated to promoting well-being through premium-quality nutritional supplements and health products. Vitafoods Asia provides an excellent opportunity for us to connect with industry professionals, partners, and health enthusiasts, as we collectively explore the future of health and wellness.
Explore our Innovative Products
Step into our booth at Vitafoods Asia 2023 to explore our latest innovations, cutting-edge offerings, and comprehensive range of health solutions. Our knowledgeable team will be on hand to discuss our products, share insights, and answer any queries you may have.
Collaborate for a Healthier Future
If you are a distributor, retailer, or potential collaborator, this event is the perfect occasion to discuss partnerships that can drive positive change in the health and nutrition landscape. We are always open to collaborations that align with our mission of delivering top-tier health solutions.
Visit Us at Booth Stand N21
Save the date: 20th to 22nd September 2023. Make your way to Booth Stand N21 at Vitafoods Asia in Bangkok. We look forward to engaging with you, forging new connections, and building a healthier future together.
For further information about Sainhall Nutrihealth Pte Ltd and our offerings, book an appointment with us today at https://www.ingredientsnetwork.com/sainhall-comp314869.html# or you contact us directly at +65 9625 0226
See you at Vitafoods Asia 2023!